Bainbridge Island Storage
Bainbridge Island's best climate-controlled facility
If you're currently residing on Bainbridge Island or Kitsap County, or if you're planning a move to this region, you might be in need of convenient self-storage solutions. Likewise, if you're tackling a personal or commercial remodeling project and require extra space to store inventory or belongings, your search for the ideal unit solution ends here at your trusted source for long and short-term needs in Bainbridge Island.
Our Bainbridge Island facility takes great pride in providing a secure and climate-controlled unit environment for your peace of mind. We offer a diverse range of 167 units, each thoughtfully designed to cater to your specific requirements. From compact 10′ x 10′ units to spacious 10′ x 30′ options, we have the perfect size to accommodate your personal items or commercial inventory.
Conveniently situated just over 2 miles away from the Seattle-Bainbridge Island Ferry Terminal, our location offers not only security but also easy accessibility. We're easily reachable from the main highway, ensuring a hassle-free experience when transporting your items to and from our Storage Bainbridge Island facility.
In addition to our standard units, we also offer RV space options for outdoor enthusiasts and travelers seeking a secure area for their RV. Our straightforward unit rental process is designed with your convenience in mind, and our friendly staff is always available to assist you in selecting the perfect spot.
No matter the nature of your needs, don't let the challenge of clutter or limited space weigh you down. Reach out to us today to explore the solutions we can provide. With our strategic location, versatile unit sizes, and top-tier security features, We stand as your go-to choice for unit rental in Bainbridge Island and Kitsap County.
Heated Units
Ranging in size from 10 x 10 to 10 x 30
Climate controlled facility, with all units heated and cooled
24/7 Video Surveillance
Alarms on exterior doors and units
The facility is fully fenced with security gate
Central location with easy highway access
Why is Climate-Controlled Units Important on Bainbridge Island?
Choosing the right facility for your needs is an important decision. Climate-controlled units utilize cutting-edge technology to maintain a controlled and safe environment no matter the external conditions. Moisture build-up, extreme temperature fluctuations, and pests are the most common concerns when it comes to choosing a facility. These things can wreak havoc on traditional facilities and can mean damage and even loss of your belongings.
We both heat and cool our units throughout the year to maintain a steady temperature range, and we also monitor and adjust humidity levels on an ongoing basis. This controlled environment is important for the unit's items such as furniture, wood, electronics, media, artwork, clothing, important documents, photographs, musical instruments, household appliances, antiques, collectibles, and so much more. But truly, having a safe and climate-controlled space option is good for all your belongings, not just those listed above. 
Our facility on Bainbridge Island is also safe and secure. All our units are behind a controlled-access gate on our fully fenced property, with video surveillance offered around the clock. Each exterior door and unit is also secured by an alarm for added protection of your belongings, giving you the peace of mind you deserve.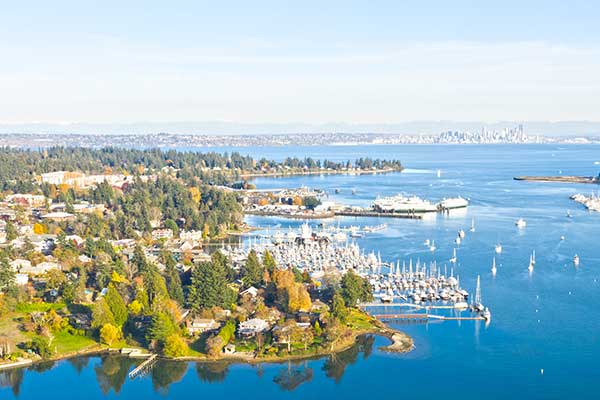 Why Choose Our Bainbridge Island Facility?
Beyond providing you with state-of-the-art technology for units, there are numerous additional advantages to selecting our facility on Bainbridge Island. We transcend the conventional concept of a storage facility; we are your com requirements. In addition to secure units, we offer an array of convenient services.
When you choose us, you gain access to a wide range of packing supplies, including boxes and bubble wrap. These essential items can simplify the process of packing and safeguarding your belongings before storing them in our Bainbridge Island units. We understand that moving can be a daunting task, which is why we go the extra mile to ease your transition.
Furthermore, as an authorized U-Haul dealer, we provide a seamless solution for your moving needs. You can conveniently reserve and rent U-Haul trucks right here on our site, streamlining the logistics of your move into our units. This added service saves you both time and the stress associated with coordinating moving trucks separately.
We offer more than just units. Our team is here to help you with your move to Bainbridge Island, providing the resources you need for a smooth experience. Our aim is to simplify your move or project, offering a one-stop solution for all your requirements.
Contact us today to find the right unit solution for you, whether it's short-term or long-term, or if you need assistance with your move to Bainbridge Island. Experience the convenience of having all your moving needs met in one place, here on Bainbridge Island.