Poulsbo's best climate-controlled storage facility
Are you in search of dependable self-storage solutions in Poulsbo or across the broader Kitsap County? Your search ends here as Coppertop Storage has got all your storage needs covered! Our facility stands out as the most convenient and secure option available in the area, boasting 430 diverse units ranging in size from 5'x5′ to 10′ by 30′. Our long- and short-term Unit Rental options are tailored to cater to your specific needs, ensuring a seamless unit experience.
Each space within our facility is easily accessible with drive-up access, making loading and unloading a breeze. Plus, with our strategic location right off Highway 3, reaching us is never an issue. At Coppertop Storage, we go the extra mile to offer unique unit solutions. Exclusive to our location is the RV and Boat space provision, accommodating other large vehicles as well. Our spots, sized 12 by 30 and 12 by 44, are not only covered but also offer power, ensuring your RV or boat remains in prime condition.
We offer unrestricted access seven days a week from 7 a.m. to 9 p.m., making it incredibly convenient for you to access your Self Storage unit or RV Storage spot whenever you need to.
We take immense pride in our meticulous attention to detail, and our climate-controlled facility provides an added layer of protection for your cherished belongings. Our unwavering commitment to delivering top-notch customer service means we handle every aspect of your unit needs, granting you the peace of mind that your items are safe and securely stored. Don't hesitate to contact us today for the best unit solutions in Kitsap County!
Heated Units
430 Total Units
Ranging in size from 5′ x 5′ to 10′ x 30′
12′ x 30′ and 12′ x 44′ covered boat and RV with power.
Access from 7 a.m. to 9 p.m. daily
A climate-controlled facility, with all units heated and cooled
24/7 Video Surveillance
Alarms on exterior doors and units
The facility is fully fenced with security gate
Central location with easy highway access
Why is Climate-Controlled Units Important in Poulsbo?
Choosing the right unit facility in Poulsbo, situated in Kitsap County, is essential, and you deserve the best. At our facility, we offer superior climate-controlled spaces ensuring a safe environment for your belongings against moisture, extreme temperature variations, and pests.
Our team is confident about our advanced technology that maintains a steady temperature range and protects against humidity. From furniture to crucial documents, antiques, collectibles, and everything in between, our climate-controlled units offer solid safekeeping.
Additionally, we prioritize security with robust on-site features such as 24/7 video surveillance and controlled-access gates ensuring ultimate protection. With us, you can rest assured that your belongings are always safe.
Our mini unit options are perfect for those with smaller space needs, providing the same level of security and climate control in a compact space. For those with larger unit requirements, such as RV owners, our RV storage solutions offer ample space and essential amenities. Our unit rental options are flexible, catering to both short-term and long-term needs, making it easy for you to find a unit that fits your requirements.
Accessibility is never an issue with our facility. Our location ensures easy access to your space whenever needed. The variety of unit sizes ranging from smaller spaces for personal belongings to larger spaces for RVs and other big items provides a range of choices for every need.
Our commitment extends beyond just providing a unit; we strive for customer satisfaction by ensuring our facility remains clean, secure, and well-maintained. Our professional and friendly staff is always on hand to assist with any inquiries, ensuring a hassle-free experience.
Our facility offers a comprehensive range of solutions including Self Storage, Mini Storage, RV Storage, and flexible Unit Rental terms in Kitsap County. Whether you need a small unit or a larger space for your RV, we have got you covered. Contact us today to find the right solution for your needs.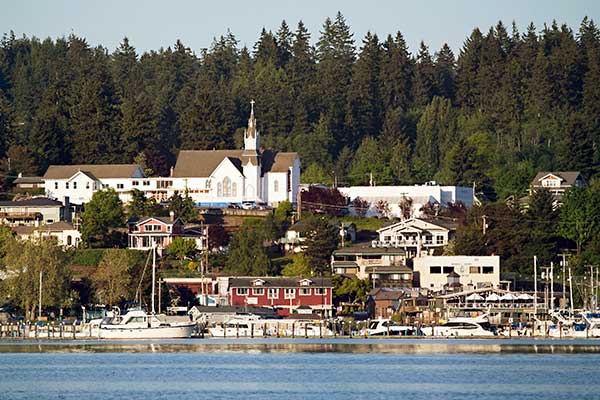 Why Choose Our Poulsbo Storage Facility?
We prioritize superior warehouse technology to meet your needs. As your go-to Poulsbo Storage facility, we extend our services beyond just providing units. We aim to be your all-in-one moving and self-management resource, offering essential moving supplies like boxes and bubble wrap, alongside full-service Uhaul truck rentals right at our facility. As an authorized Uhaul dealer, we strive to make your move seamless and stress-free.
Our facility is designed with your convenience in mind, offering a range of Storage Rental options. Whether you need space for personal belongings, Mini units for smaller items, or RV Storage for your larger vehicles, we have diverse unit sizes to accommodate your needs. Each unit is easily accessible, ensuring a smooth retrieval process.
We don't just stop at providing unit solutions. Our team is ready to assist with your moving process, ensuring you have the resources you need for a hassle-free experience. Our goal is to simplify your move or project, providing a one-stop solution for all your needs.
Contact us today to find the tailored unit solution that suits your needs, be it short-term or long-term, or assistance with your move. Discover the convenience of having everything you need for your move requirements in one place, right here in Poulsbo.